Welcome to Michael J. Kouri's  Region 2 South United Federation of Doll Clubs Page

Here you'll find the topics Michael can talk about while visiting your doll club,

Club Notes, Doll Shows and Events - photos & more fun.

~

Michael can be reached by phone at (626) 791-1129 or emai: icghosts@hotmail.com

Michael offers interesting and unique programs to doll and service clubs all over the world and can talk on a variety of subjects. He has appeared on dozens of national and international radio and television shows sharing historical information on the importance of collecting, and his love of antique dolls, dollhouses, miniatures and toys.

Here are a few topics he is currently sharing with UFDC clubs in Region 2 South.....

                                          ~

Now you can Buy Michael's Convention DVD's Too!

Michael literally spends hundreds of hours researching, photographing his collections, and creating these entertaining programs, educating members at our conventions, and introducing new people to the world of collecting. He also donates a large portion of each sale to UFDC and other charities including Make-a-Wish Foundation, St Jude's Children's Hospital, and Disabled American Veterans.  Having fun & Helping others...

Program #3 Collecting Schoenhut's Humpty Dumpty Circus. During this program, Michael lectures about to Doll & Toy clubs is called: The Wonderful World of Schoenhut's. During this lecture, Michael shows examples of these adorable wooden circus toys, their incredibly talented figures, accessories and more. Michael has one of the largest and most complete collections of these toys as he's been collecting them since the age of .8

You'll get to see, touch and enjoy pieces from exotic animals and circus personell and more during this delightful program.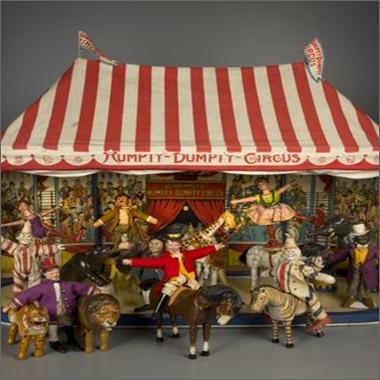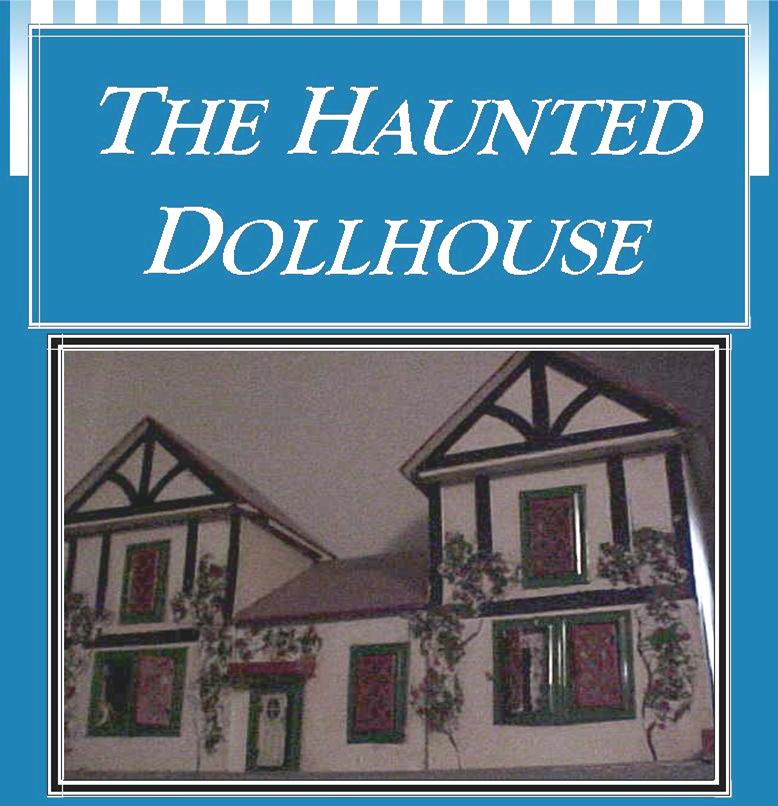 Program#2   A Haunted Doll House

This lecture combines a slide show featuring this macabre dollhouse, it's contents and the story of it's own ghost. Whether you believe in ghosts or not, you might after experincing the story of this Haunted Dollhouse. Michael was stunned to capture on film pieces of actual miniature furniure floating through the air from inside the antique wooden house, across the room and into a pile with other pieces.

Incredible to be true? Find out by asking Michael to come to your doll club and lecture on this neat topic.

Michael wrote a book about this very house, which is also available for sale. Priced at just $29.95 incuding Shipping.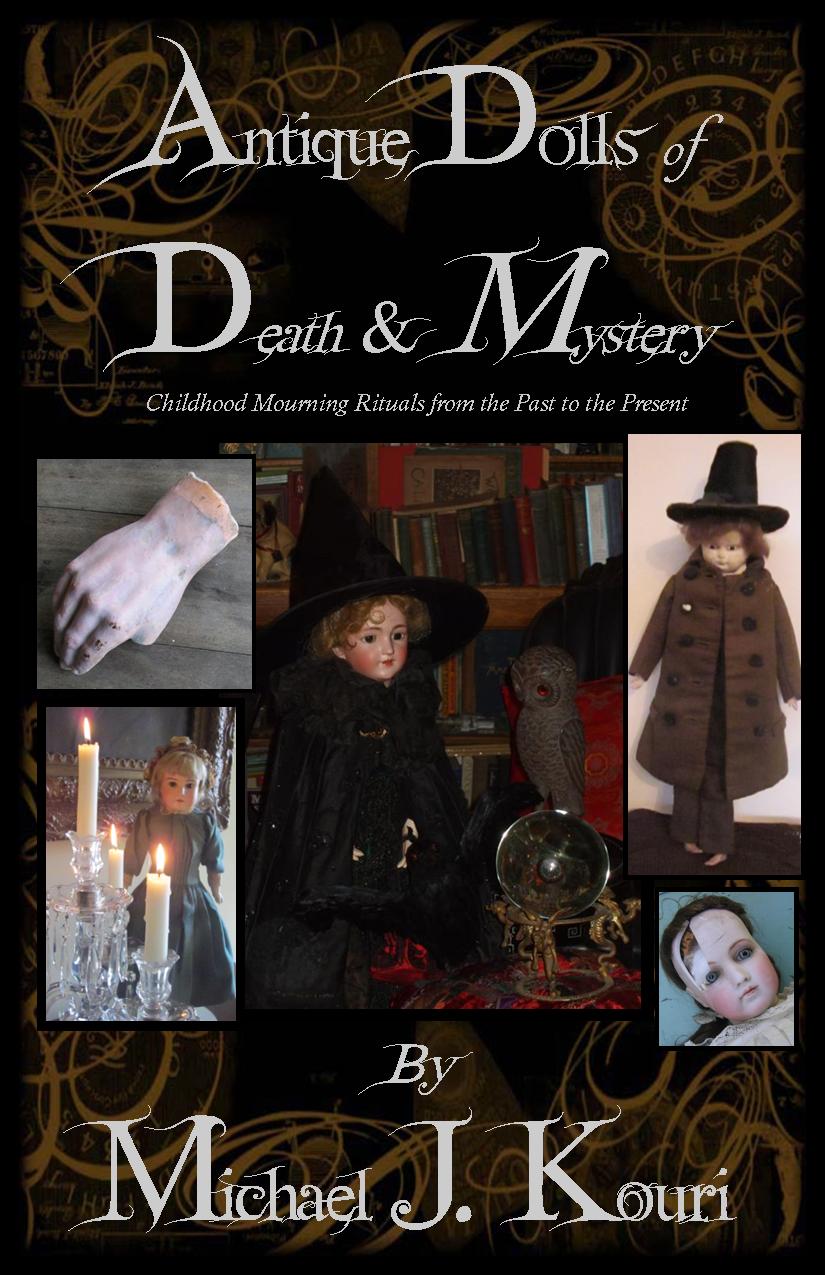 Program#6 Antique Dolls of Death and Mystery was the entertaining program originally shown at the United Federation of Doll Clubs annual Convention in the summer of 2012 in New Orleans. It will educate anyone interested in the history of childhood Mourning rituals from the earliest recorded history of humans, through modern times. a wonderful program filled with interesting information. Copies of this DVD are available for sale Price $39.99 including shipping.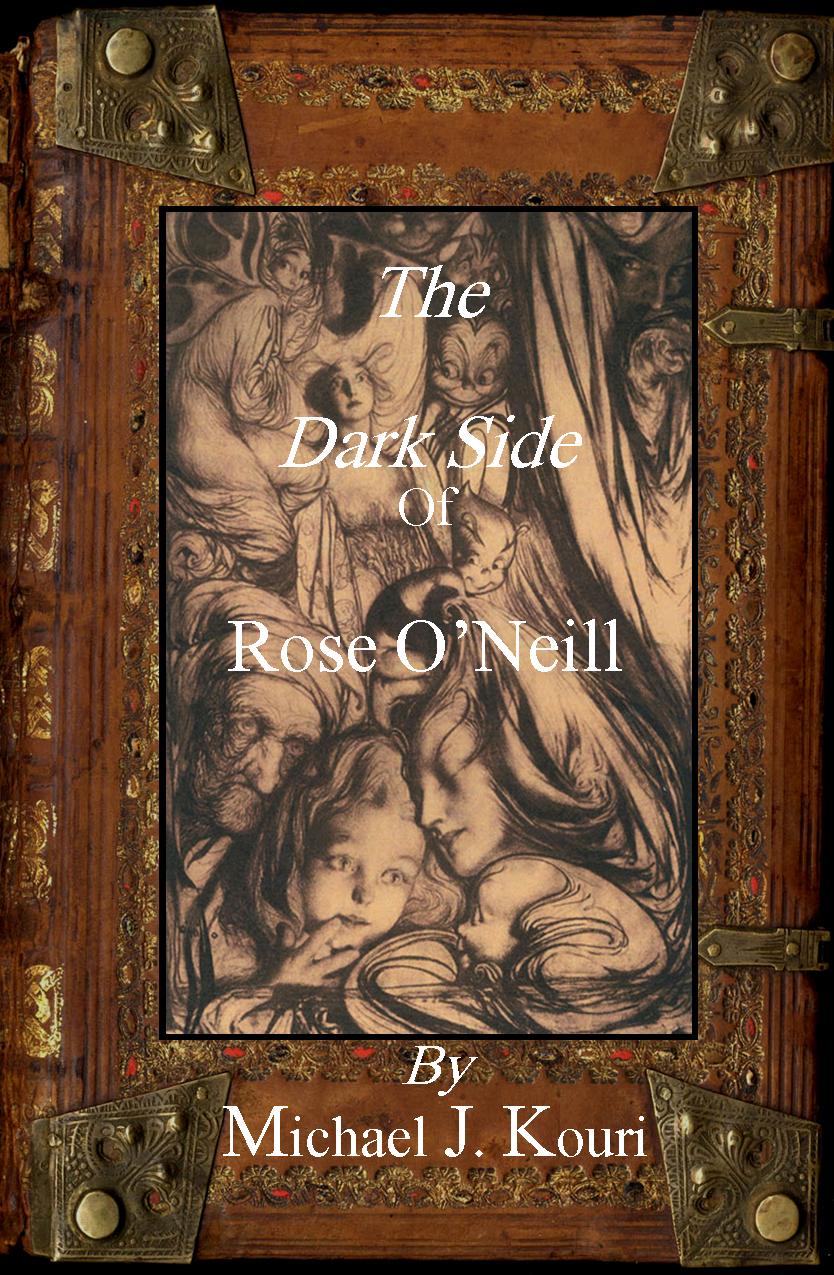 Program #4 The Dark Side of Rose O'Neill, is Michael's 55th book due for release in April of 2015.

During this program, Michael educates those interested in the exciting life of Rose O'Neill, the creator of fantastic art, Paintings, Sculpture and more. During your time together, you'll actually explore the life and interests of Rose O'Neill, known around the world as the Mother and inventor of the adorable Kewpie dolls, Scootles, a Budha and more. Her life wasn't all peaches and cream, and some people believe her spirit continues to haunt her family homestead and the dolls she created. 

The book features rare, never before seen original drawings made by Rose from her early career as an illustrator, to her own personal "monsters" created during deep bouts of depression. Personal interviews by family members, and historical information never before published. This book is a fascinating look into the mind and soul of one of the most famous feme fatales of the doll and art world's combined. Michael's program reflects his research for this book.  Copies of this book will be offered on this website or Michael's other funtastic site WWW.ICGHOSTS.COM and can be signed and numbered by the author at no additional charge.


Program#5 Lewis Sorensen, The Master of Wax. Based on Michael J. Kouri's book of the sane name. In this lecture, Michael will educate you of this legendary Utah/Southern California based artist, who created thousands of Dolls, Historical Figures, Life Sized Mannequins for famous wax museums around the world. You'll learn and see examples of Mr. Sorensen's incredible talents throughout his lifetime, including his magical Holiday Ornaments. 

Copies of the book are still available for $59.95 plus shipping. This coffee table sized limited edition comes hand signed and numbered.

Club Notes "Where in the world is Region 2 South Director Michael J. Kouri?"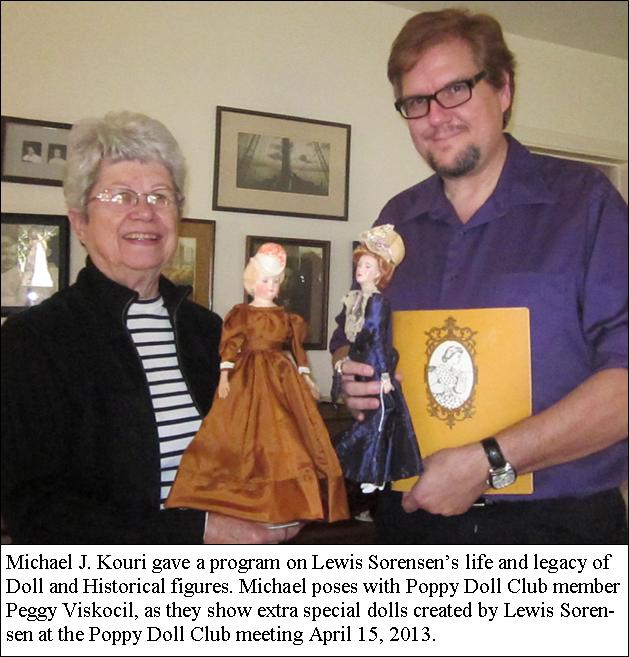 Michael has traveled hundreds of miles in his first year as Regional Director for Region 2 South, visiting many clubs, sharing entertaining programs based on his books on Doll and Toy collecting (shown above) and speaking frankly with club members about the new plans to improve UFDC for everyone...Have you invited Michael to visit your club yet?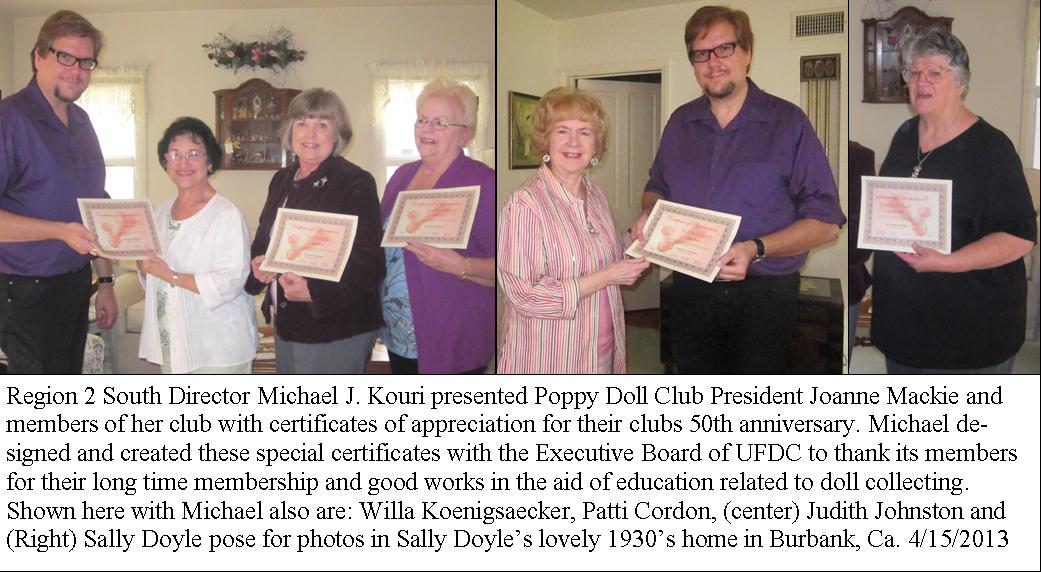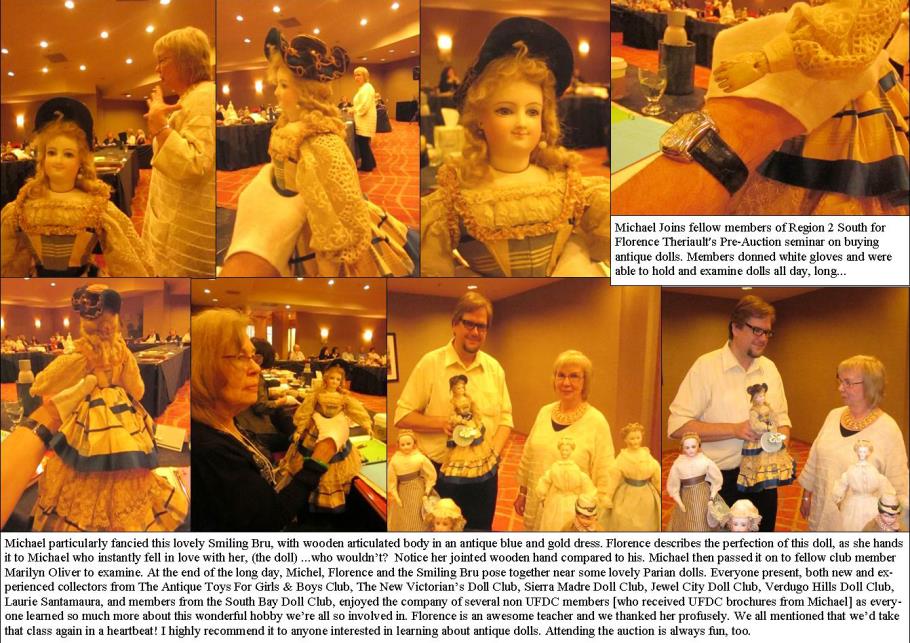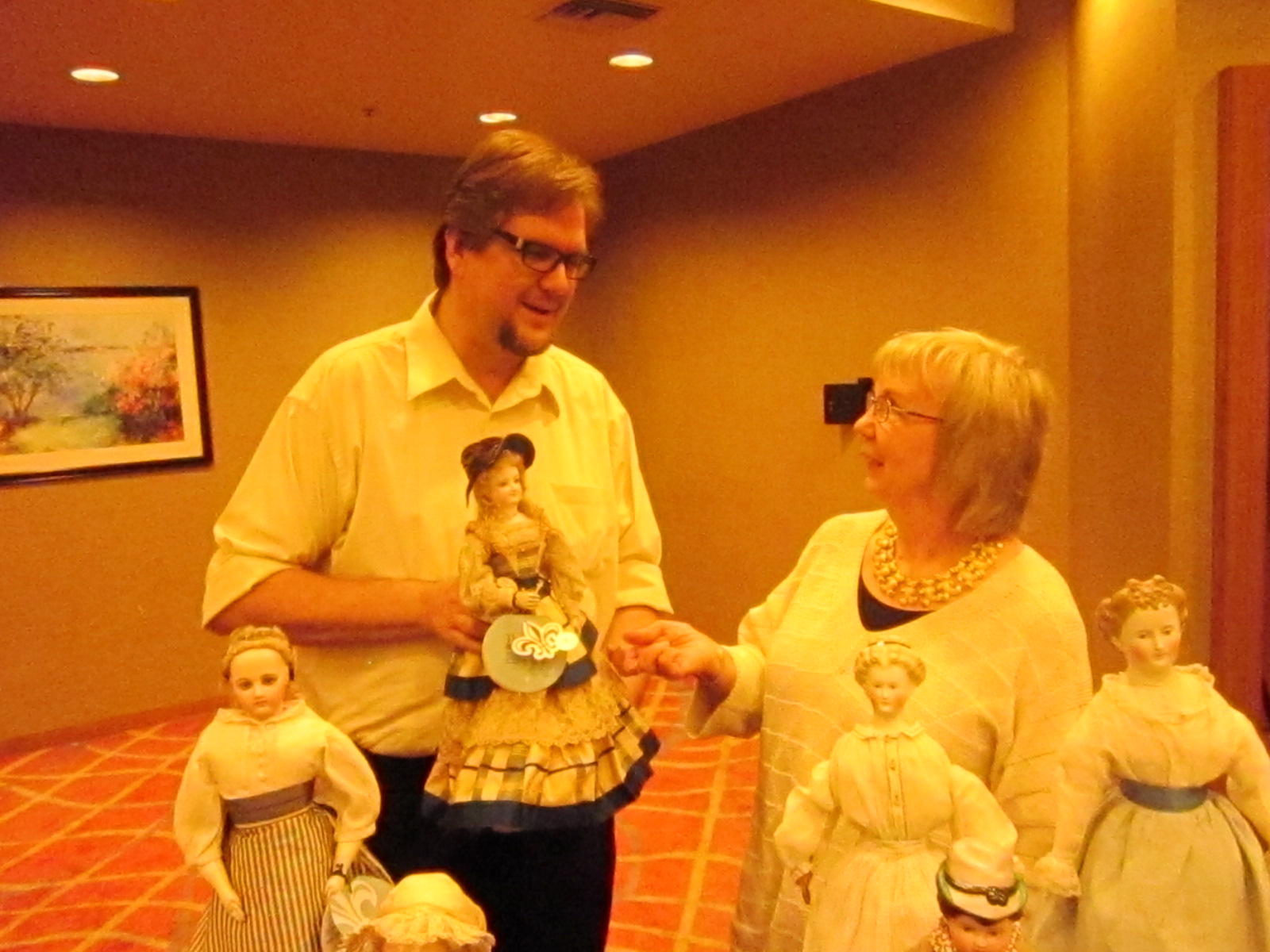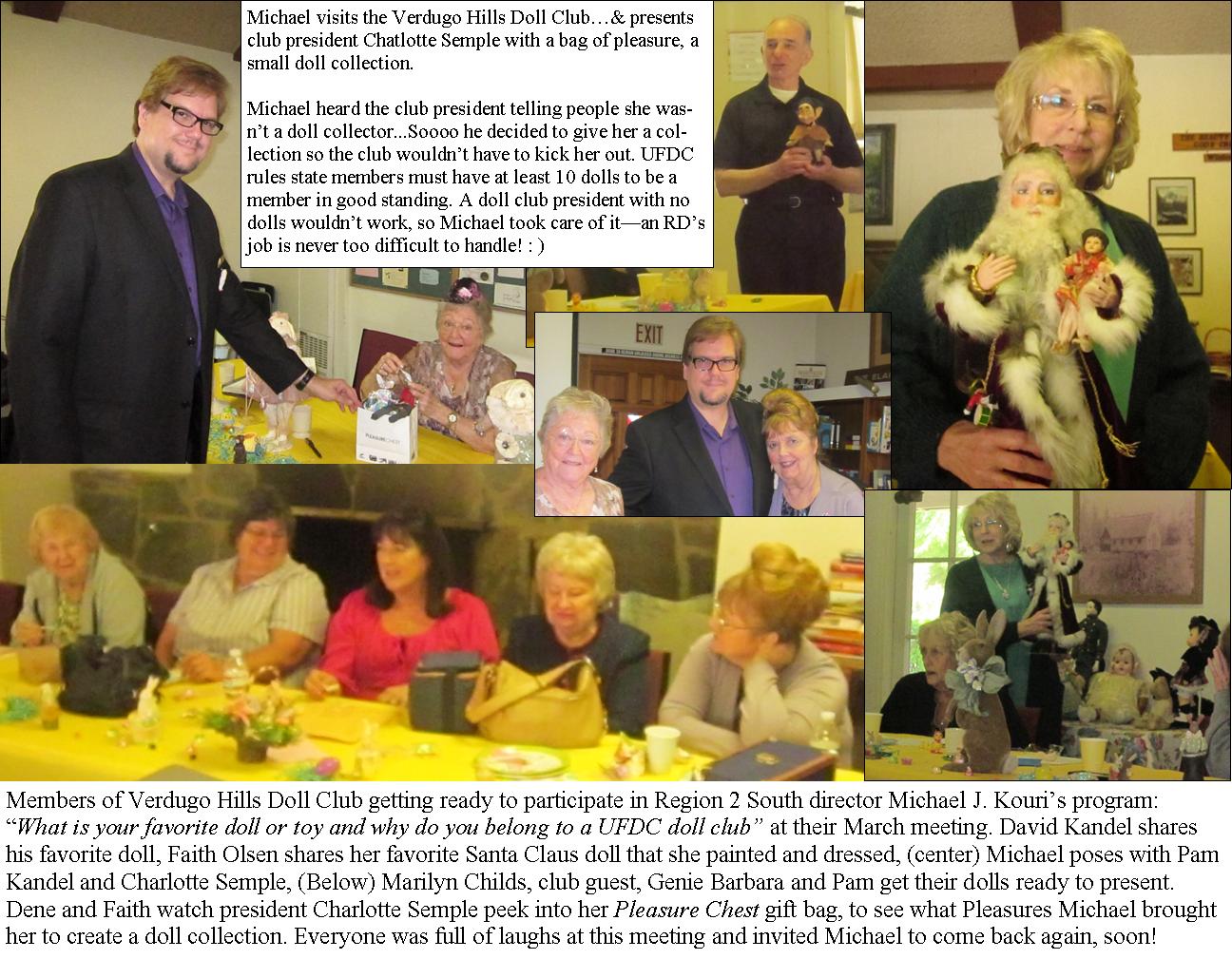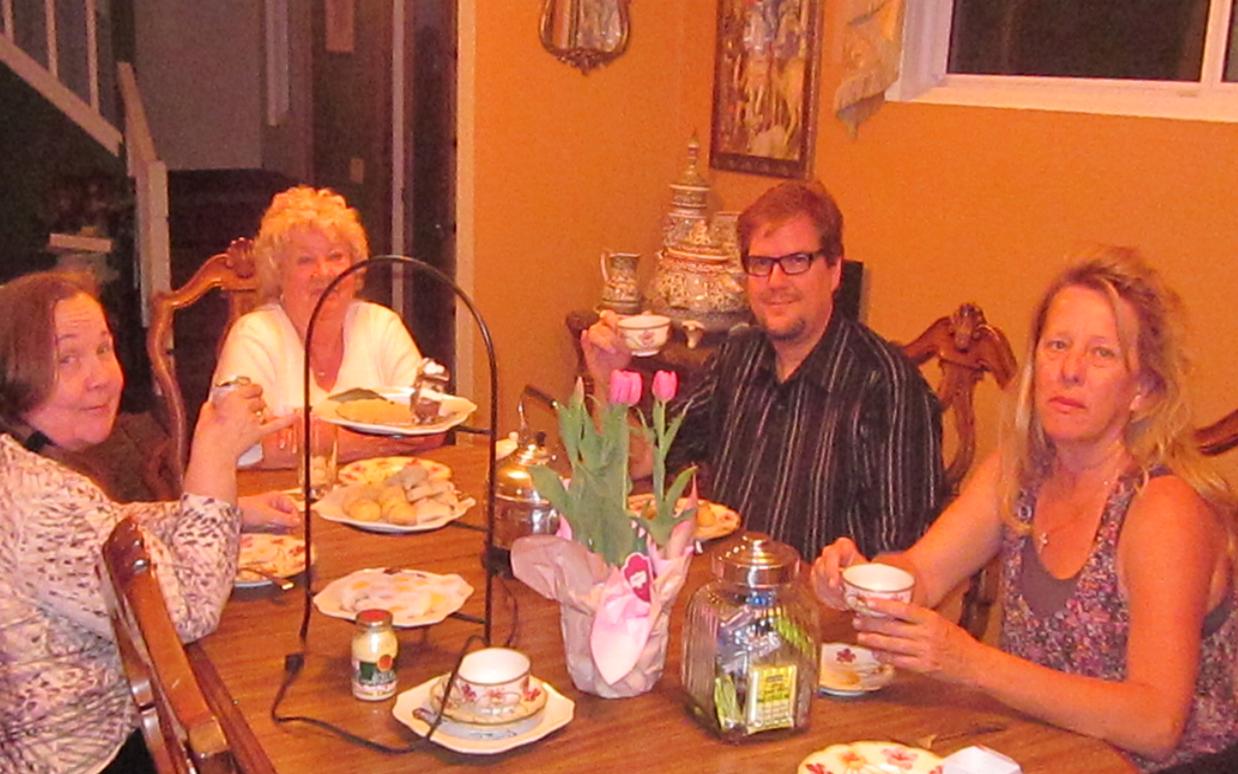 There are so many fun club meetings going on in Region 2 South

        for Michael to visit.

Michael is invited to Tea with fellow UFDC members, Gert Leonard, her daughter Ruth, & Michele Weiss, president of the Best Little Doll Club of Orange County...crumpets anyone?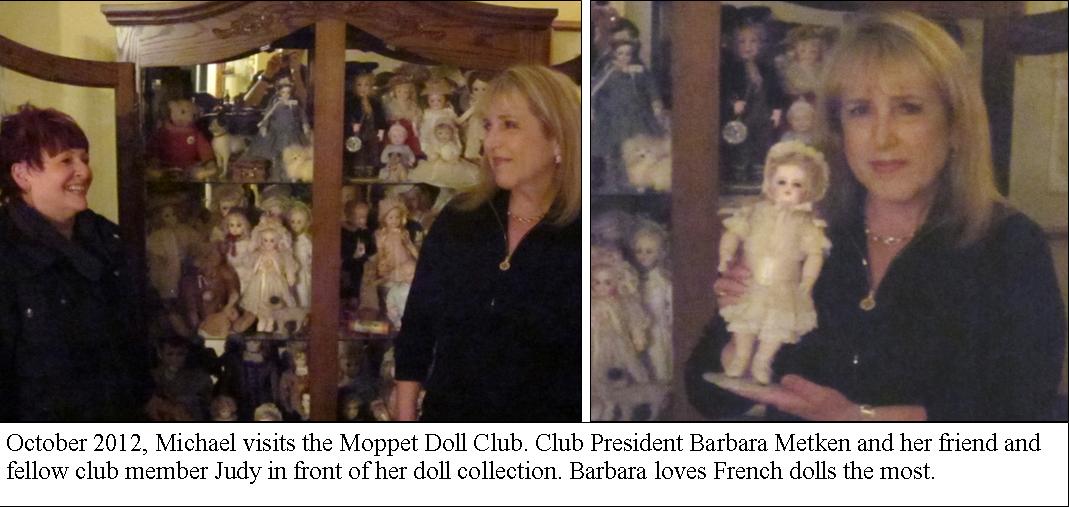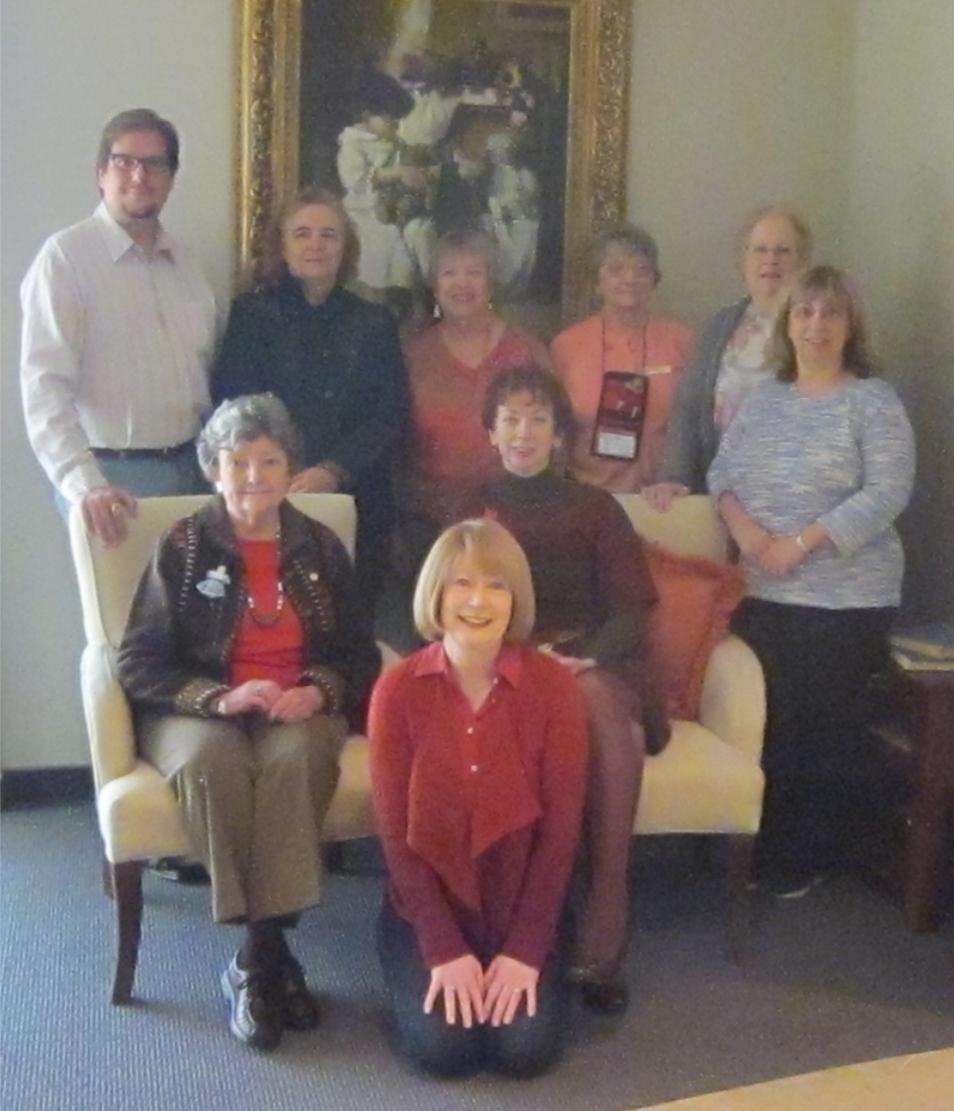 Michael J. Kouri, posing with fellow Regional Directors in Kansas City, for their intensive 3 day training for their volunteer positions as regional directors. Photo taken with Executive board members Ada Deitrich Janet Gula, Linda Edward and Loretta Nardone. October 2012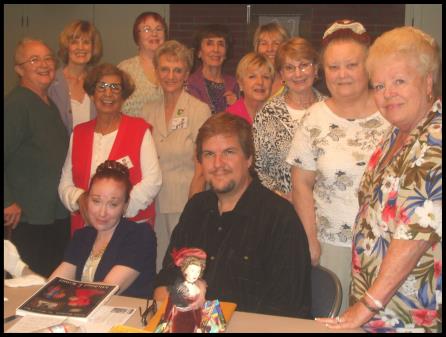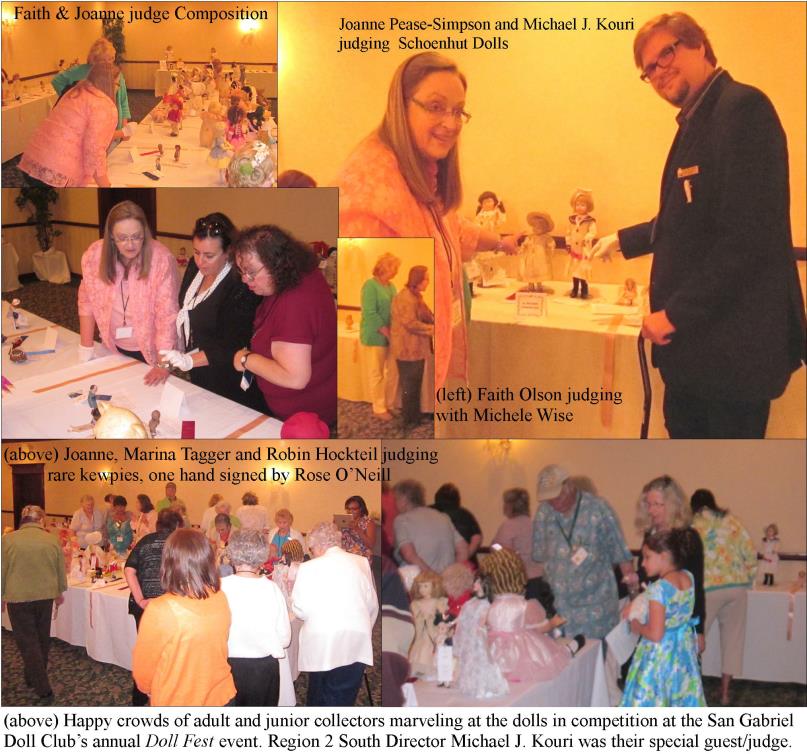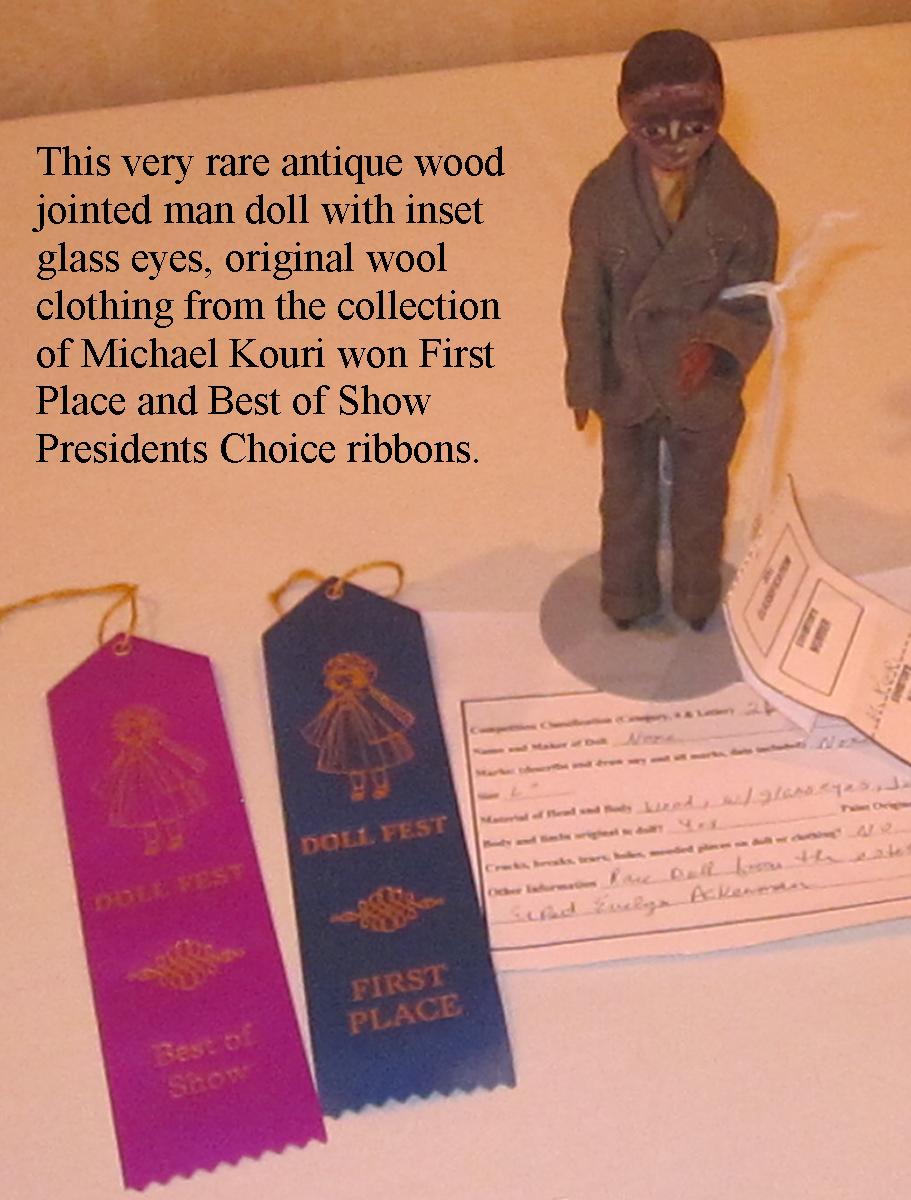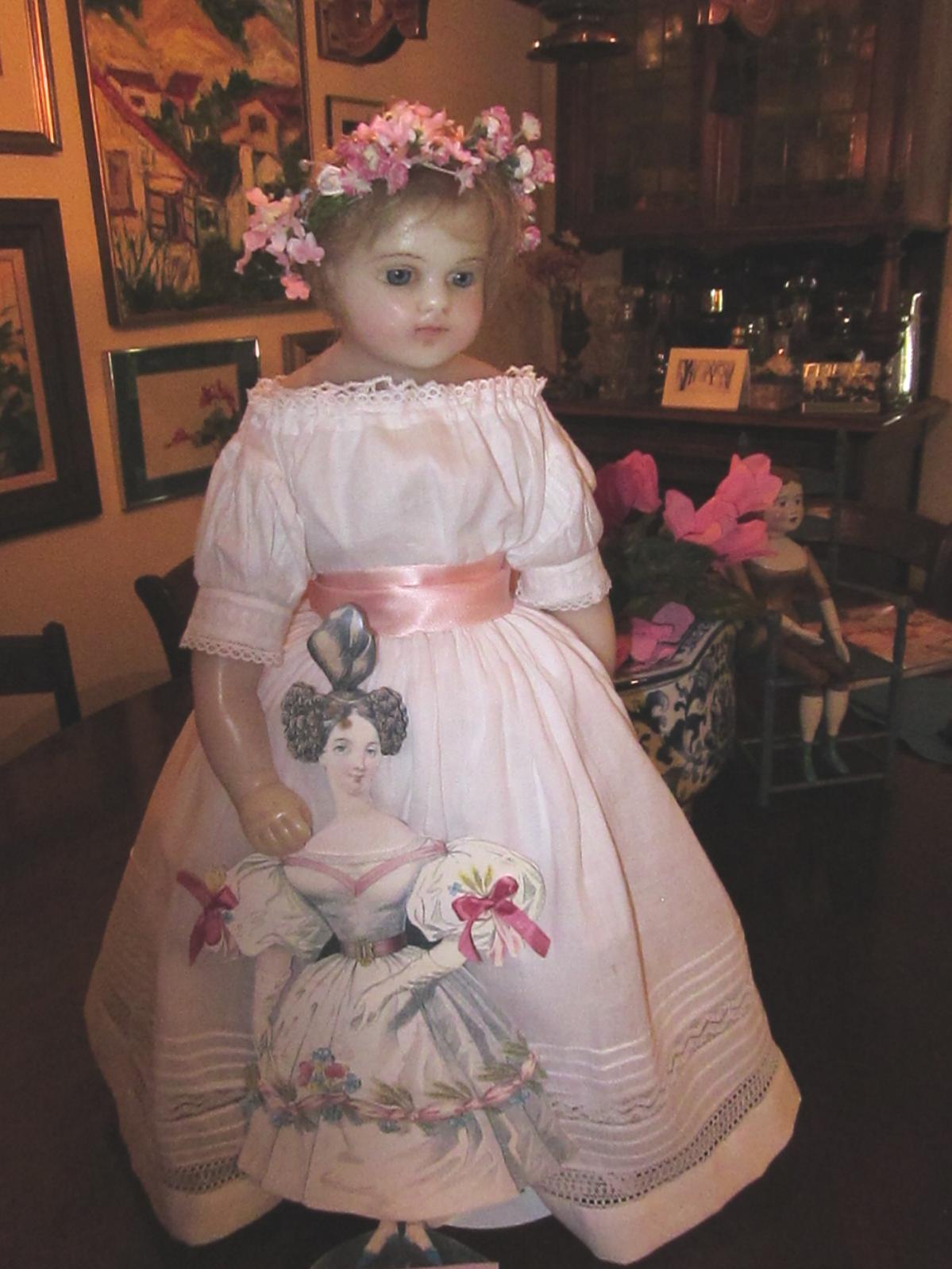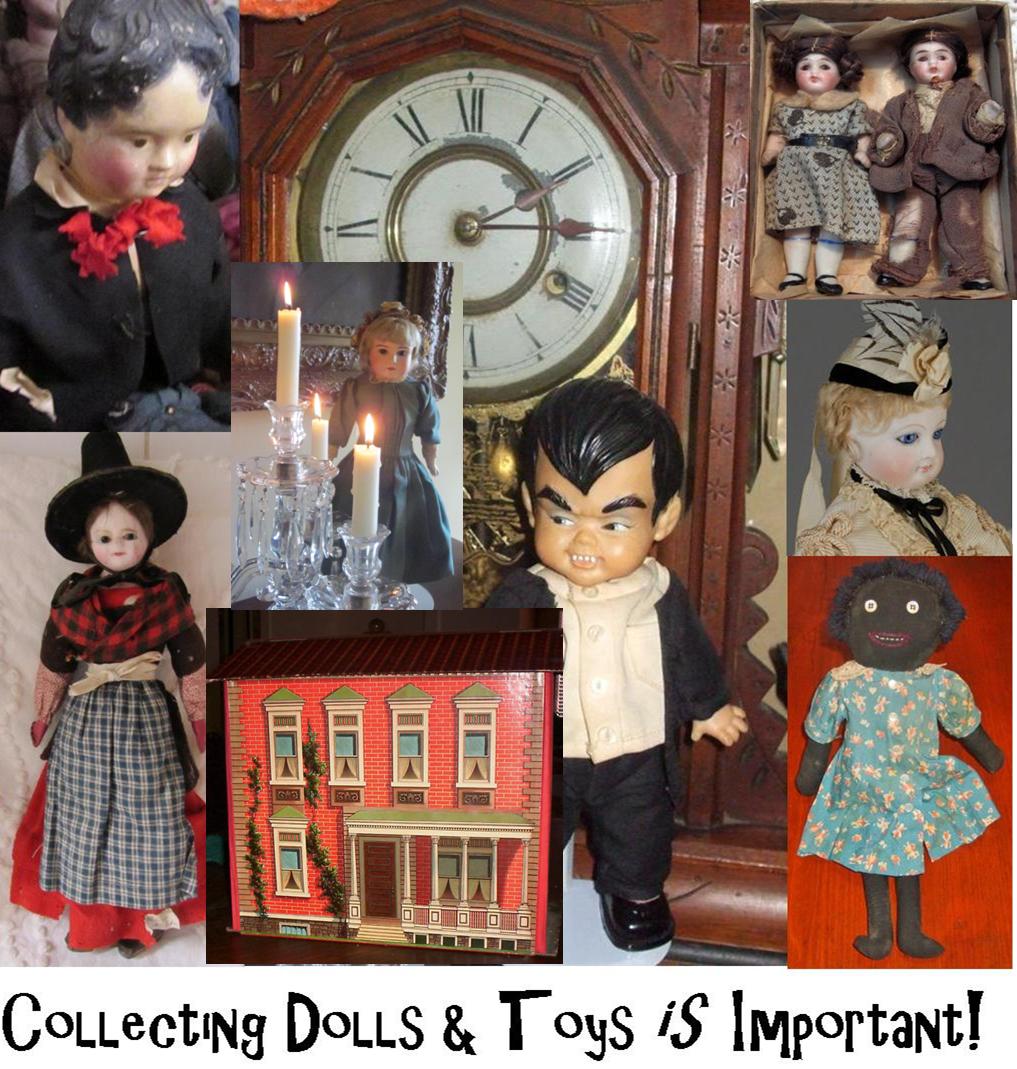 (right) In April of 2013, Michael gave a program to the Anaheim Doll Club on Lewis Sorensen dolls and historical figures. Here he poses with club members from this fun club.Their hospitality was stellar!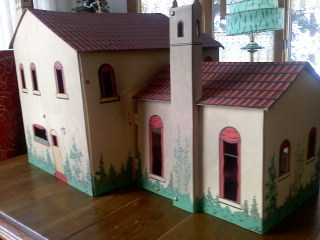 Program #1 Collecting American Dollhouses is also available for sale on DVD Copies are available for $29.99 including Insurance and Tracking.

Sorry Our Shopping Cart is Currently down. To Order copies of Michael's DVD's or his books, please contact his offices directly at (626) 791-1129. We gladly accept personal or business checks through the mail or Mastercard, Visa or Discover Credit/Debit cards safely and securely over the phone.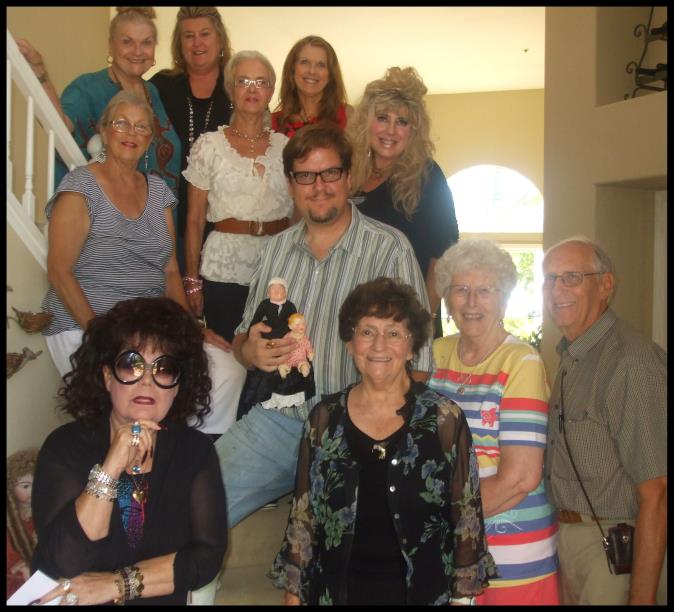 UFDC Region 2 South Director Michael J. Kouri is surrounded by members of the Doll Discovery Club at the lovely home of  Barbara Mollure. Michael holds two of his rare Lewis Sorensen Wax dolls he showed during his presentation.

Region 2 South Thank You Card Project. Early in May I sent an email blast to all of my Region 2 South Club presidents and members asking if they could create a special Thank You card Paper doll. I scanned images of an antique French Paper Doll shown in the pages of the Spring 2013 issue of Doll News, suggesting they use this as a template, or create their own images.

Here are some samples of the cards I received. I was invited to come to the stage during the banquet of the UFDC convention in Washington D.C. and gave a short speech before presenting Ada Deidrich with the box containing these fascinating examples of the artistry of the presidents, Members-At-Large and members of Region 2 South who should all be proud of themselves. Some of the cards arrived later, and were mailed directly to Ada after the convention. You all made Region 2 South Sparkle that day and I'm thankful and proud of everyone who participated.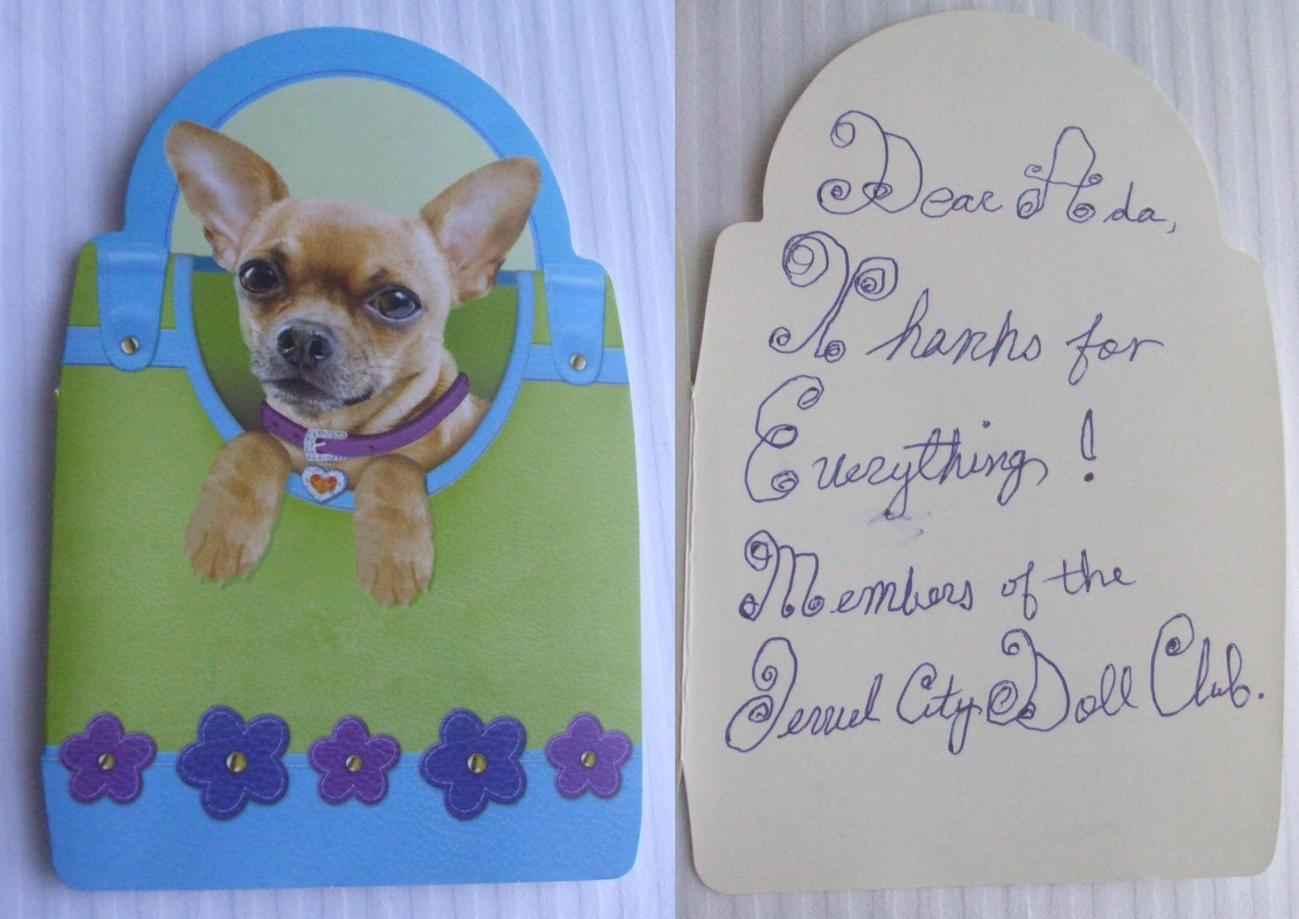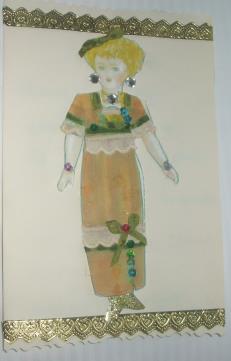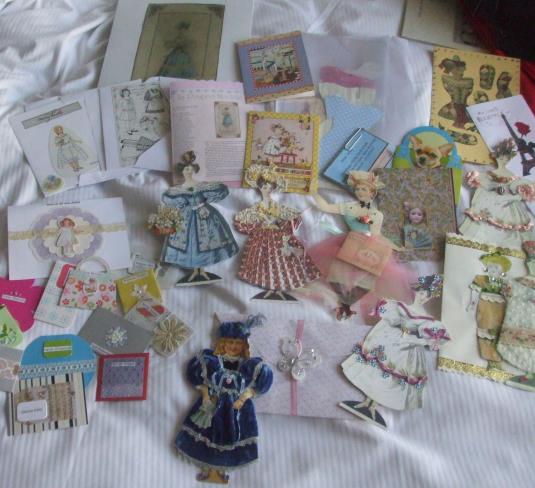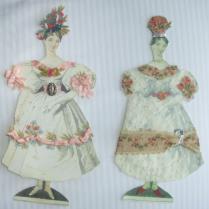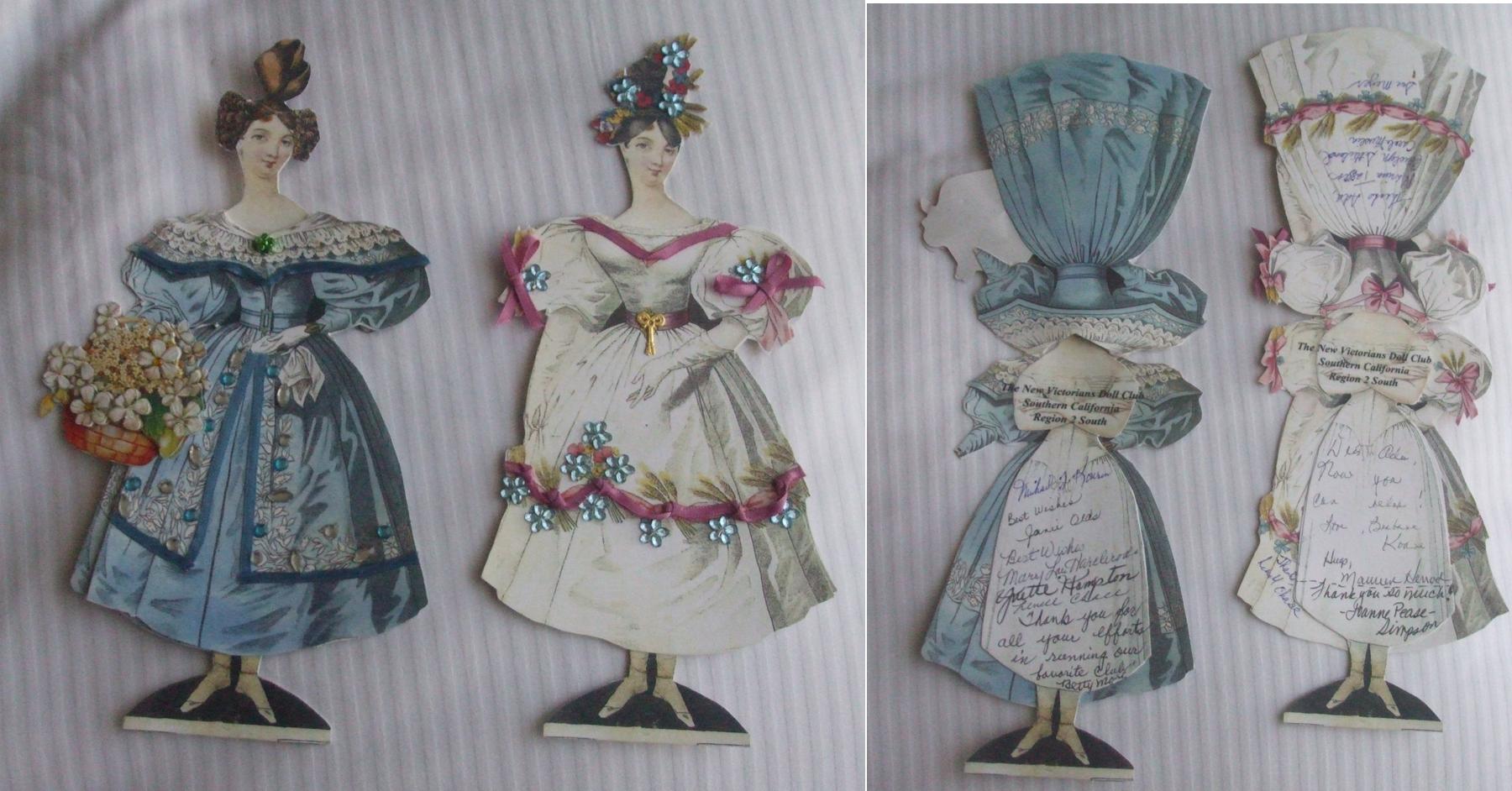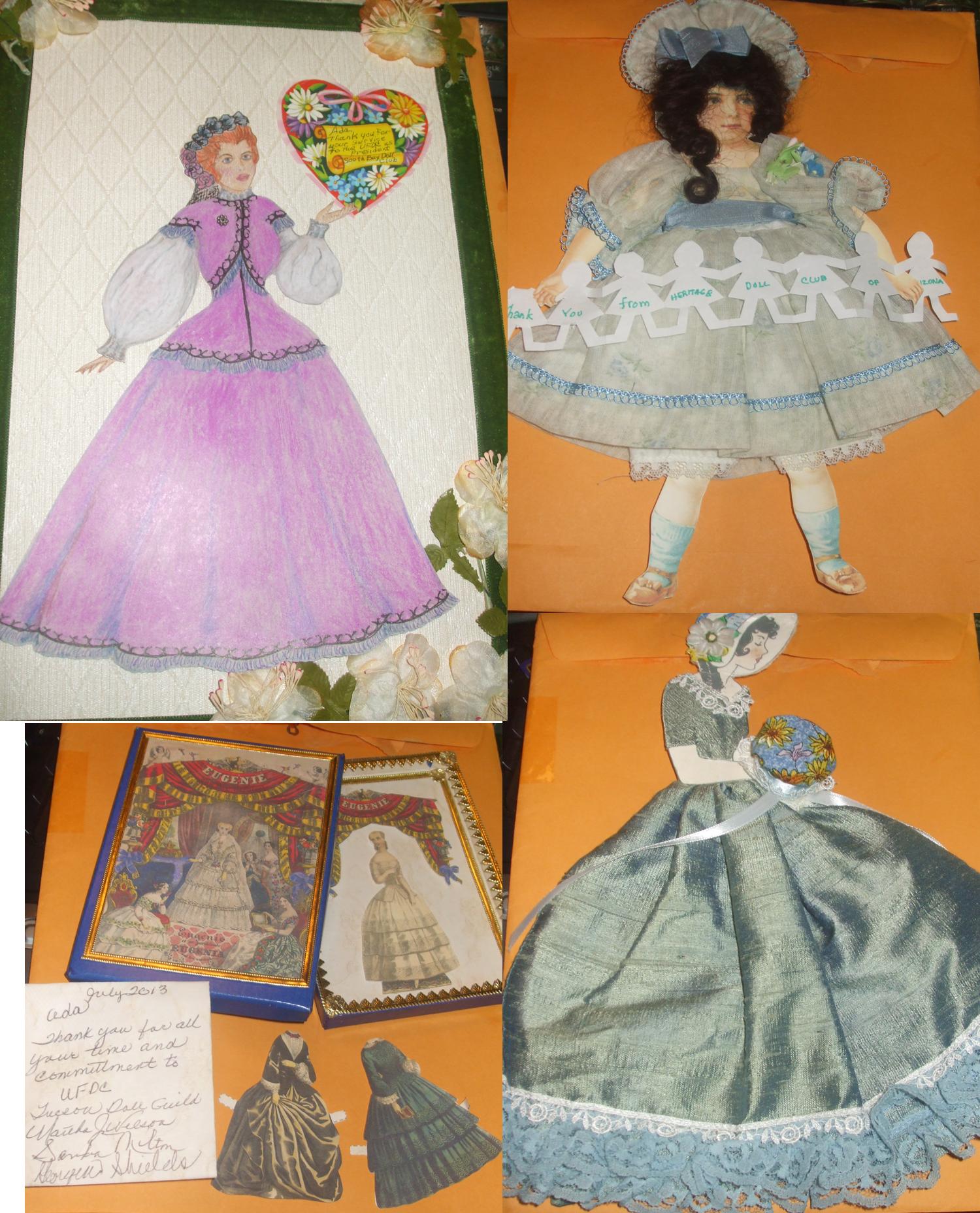 This one is actually a sewing kit underneath

Some of the clubs sent store bought cards, too.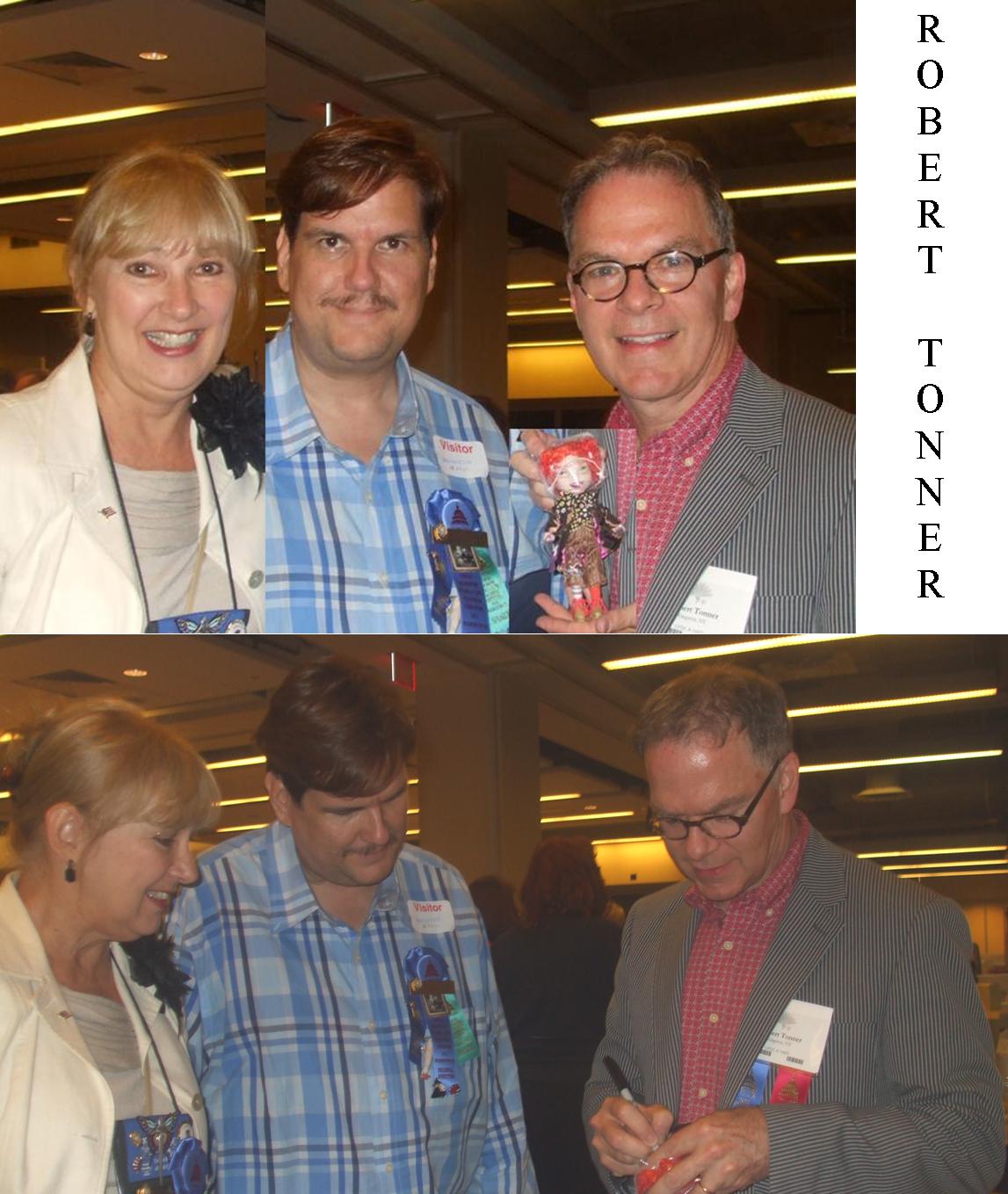 UFDC 64th Annual Convention Highlights

Doll artist Robert Tonner hand signs one of his Ball Jointed Dolls for Michael and another for Region 3 Director Kathy Monier as they two look on. Robert Tonner also created the convention souvenir doll we all received at the banquet.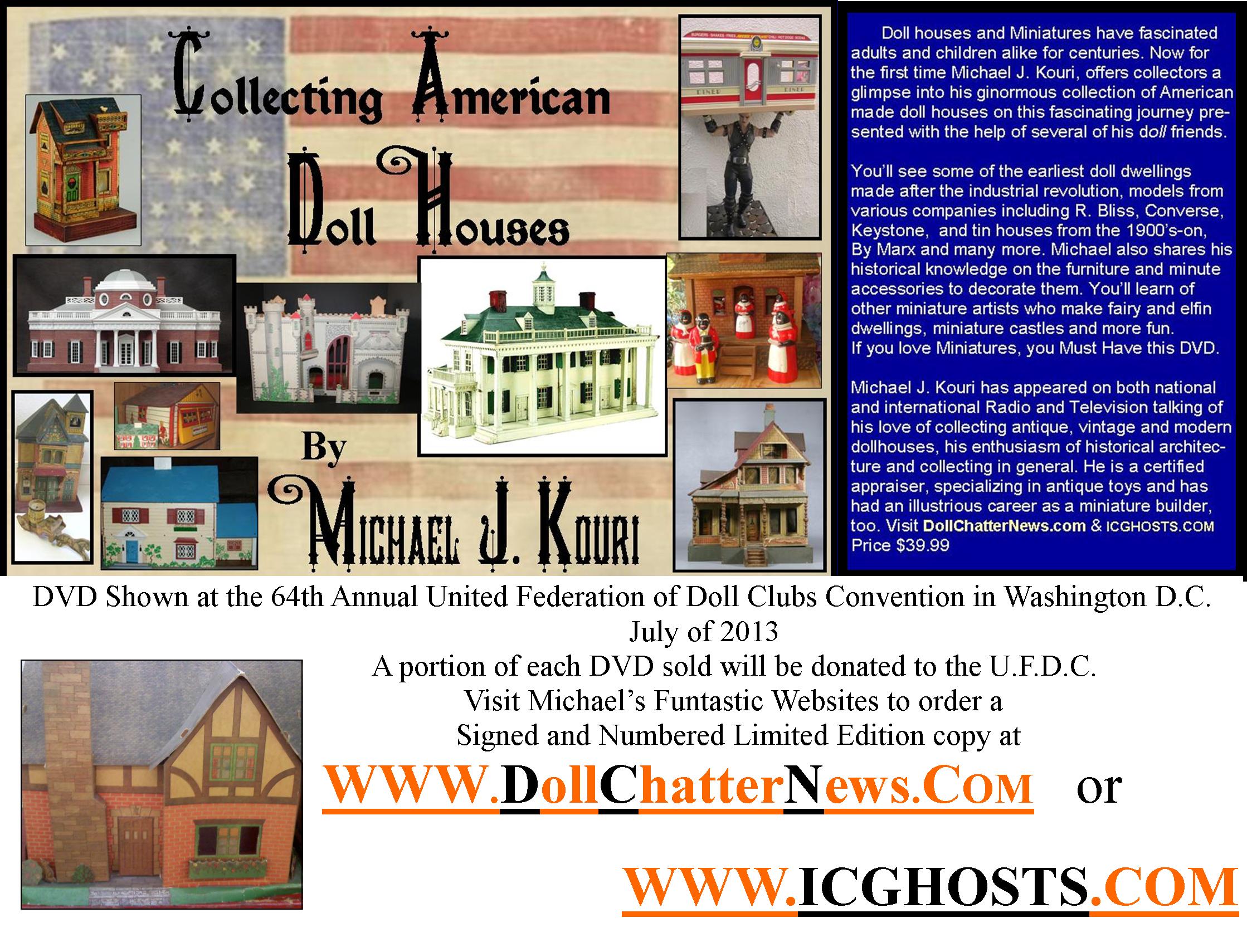 Upcoming Doll Shows for 2015

in Region 2 South include:

January 10th and 11th

Theriaults Annual Auction held in Newport Beach, Ca

For more info contact Theriaults.com website.

January 16/17th

The Glendale All American Toy and Advertising Show held at the Glendale Civic Auditorium

1301 N. Verdugo Road Glendala, Ca. Info 714-264-0422

January 17/18

Crossroads Doll & Teddy Bear Event

Al Bahr Shriner Center

5440 Kearny Mesa Road

San Diego, Ca info (775) 348-7713

January 24th  Doll & Friends of Arizona Doll Club's 21st Annual

Doll Show & Sale Held at the American Legion Hall #35

2240 W. Chandler Blvd, Chandler Az.

For more information Contact Cheryl Fox (480) 966-3064

Janyary 31st Verdugo Hills Doll club Annual Show & Sale

The Charms of Yesteryear hels at the Glendale Civic Aud

1301 N. Verdugo Road

Glendale, Ca for info contact Dene 818-248-4862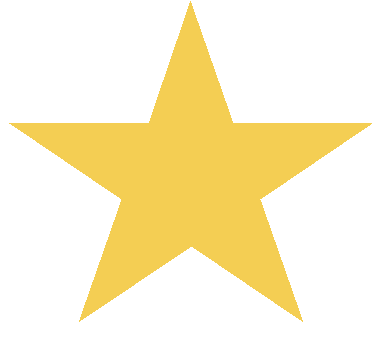 What's Happening

In

Region 2 South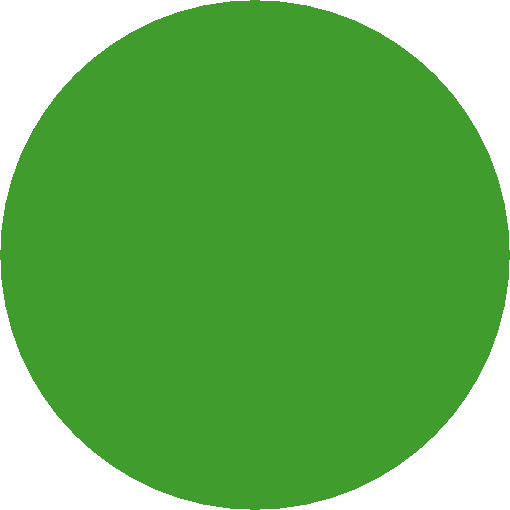 Michael Love's learning about dolls with friends and members of Region 2 South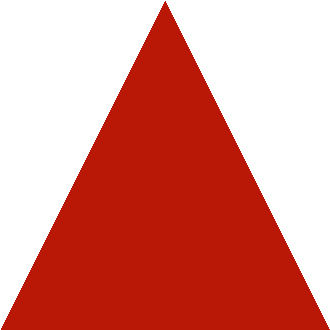 Marty Roden Checks

out the Undergarments of this antique doll -Yikes!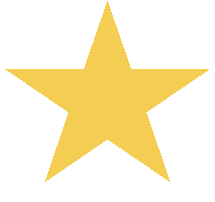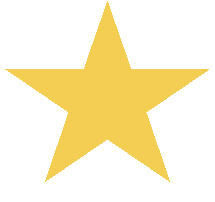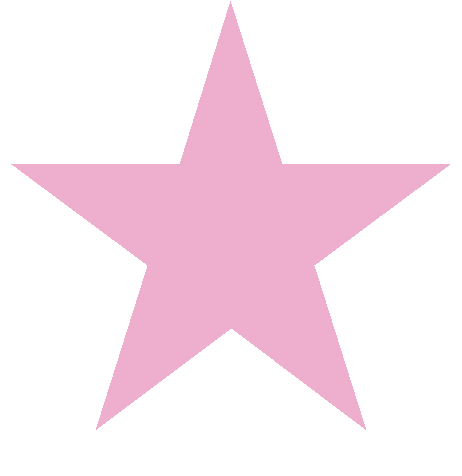 Current Doll Show

Calendar Dates

include: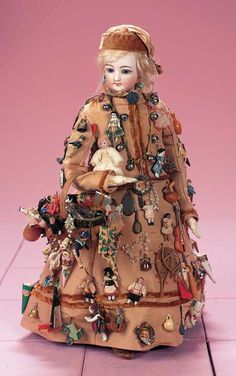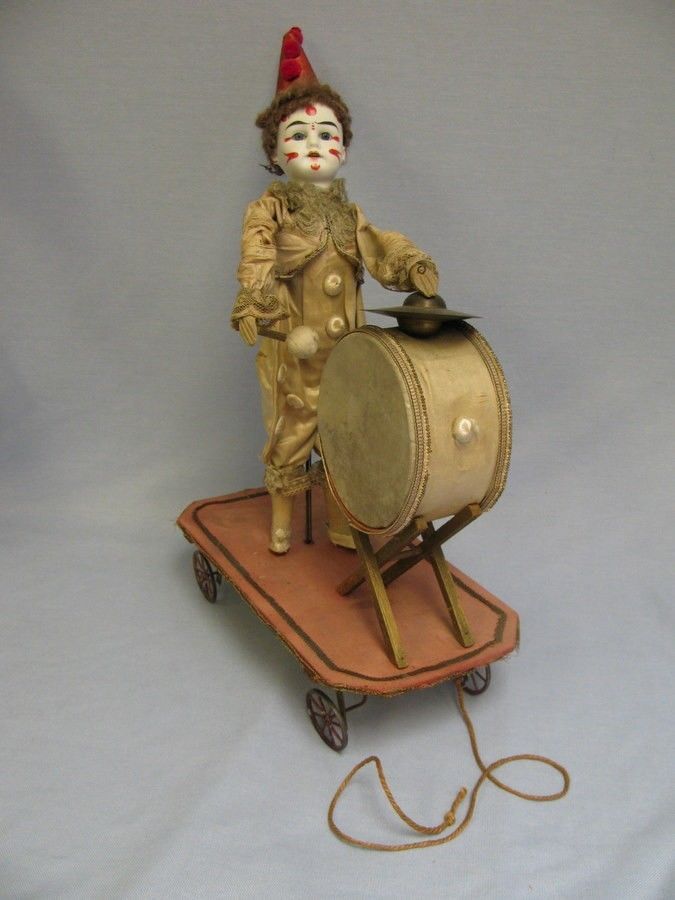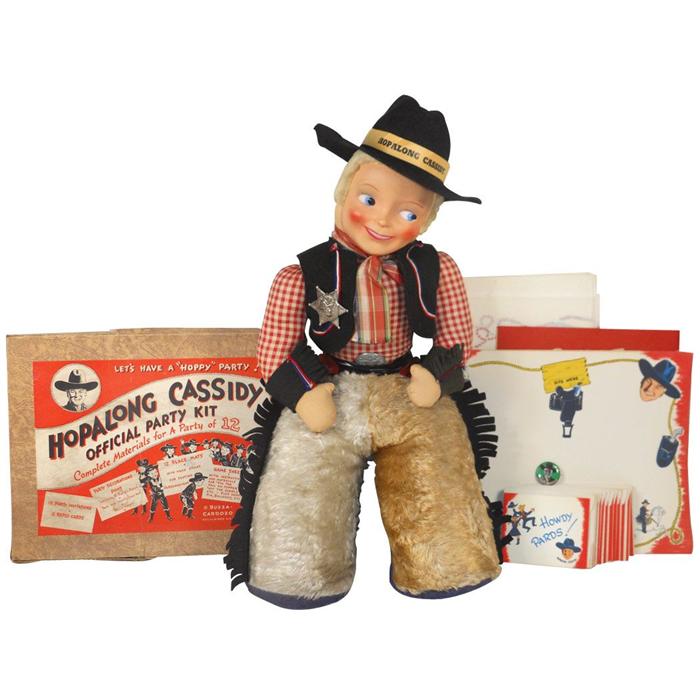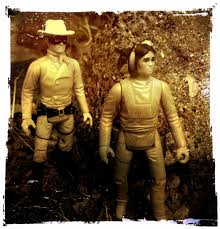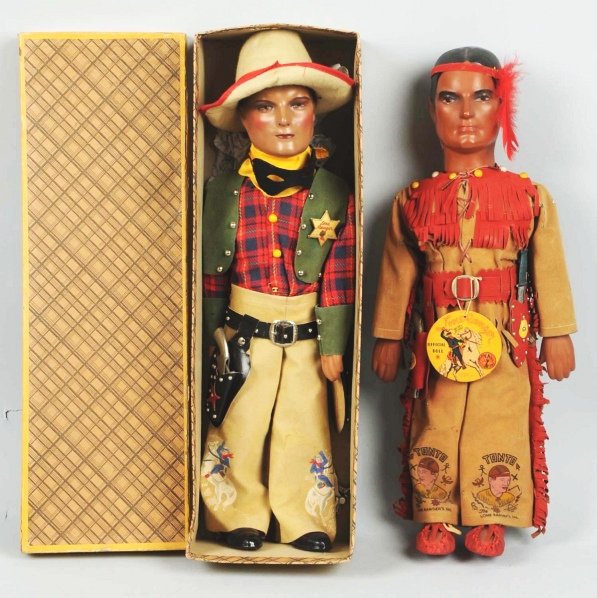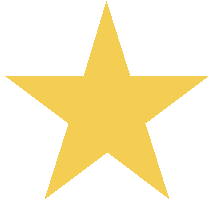 Everything

is

Collectible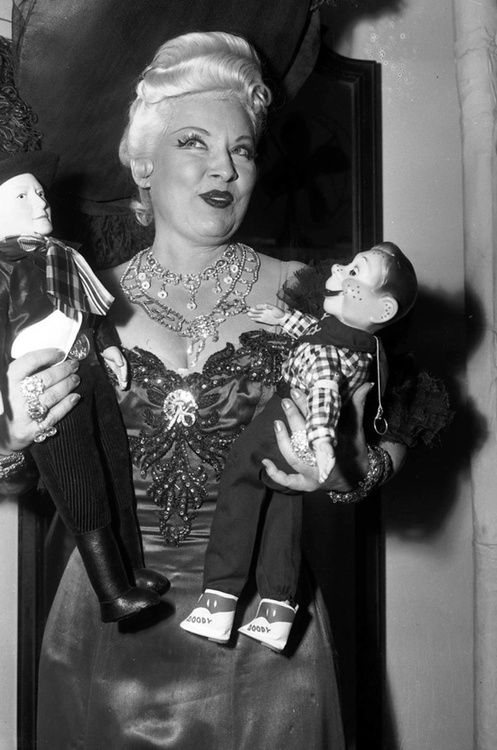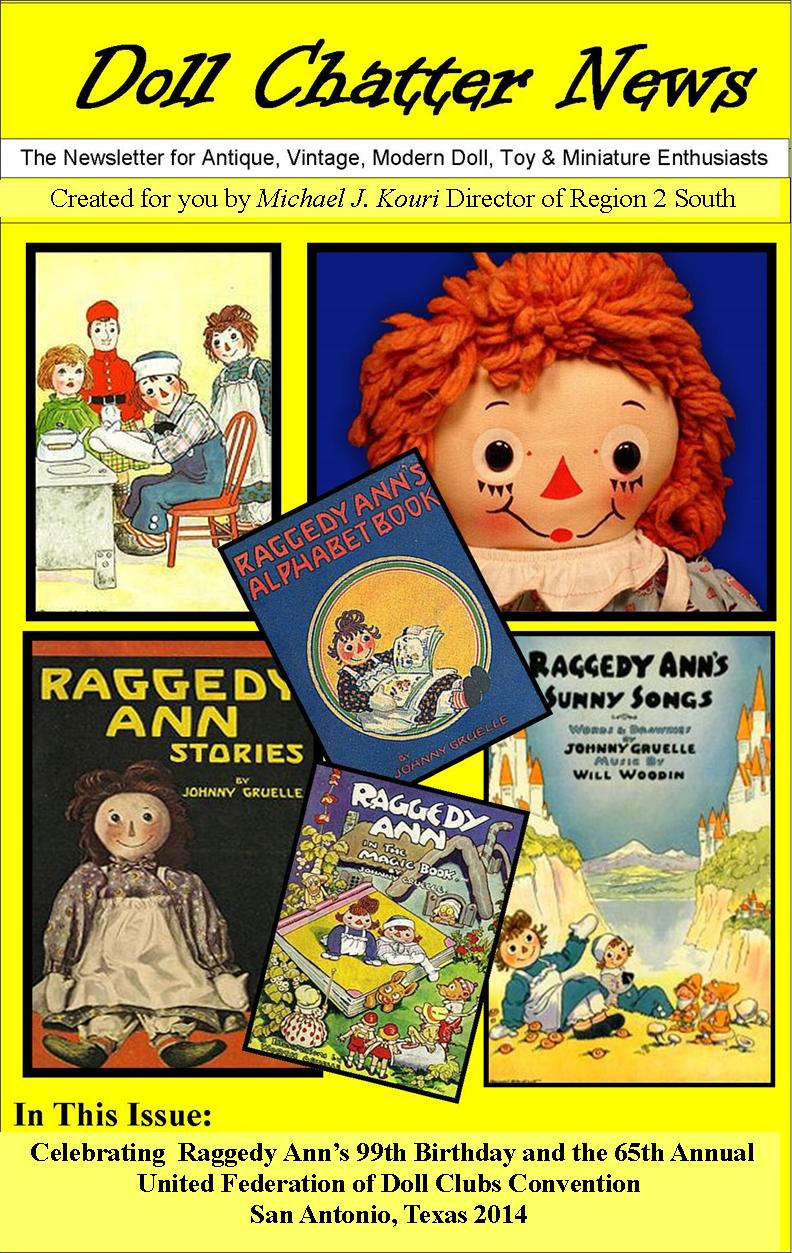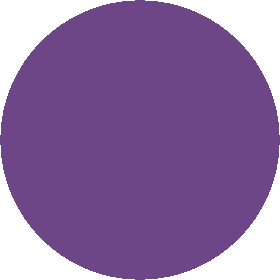 More dates will

be added soon